Singapore Strata Commercial Sales 1H 2020
Research Date: Wednesday, 19 August 2020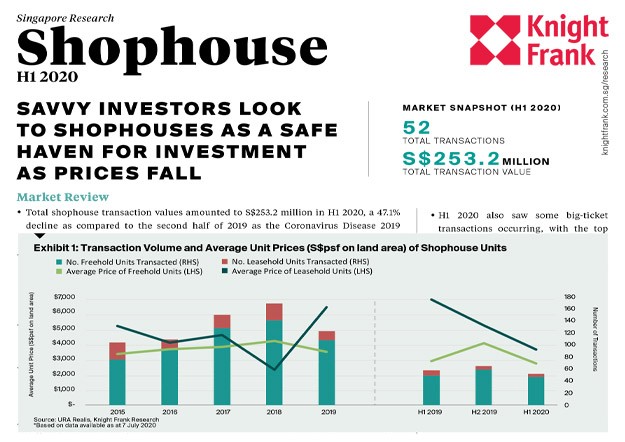 Savvy Investors Look to Shophouses as a Safe Haven for Investment as Prices Fall.
Market Review :
Total shophouse transaction values amounted to S$253.2 million in H1 2020, a 47.1% decline as compared to the second half of 2019 as the Coronavirus Disease 2019 (COVID-19) constrained economic activity and dampened sentiments.


Average unit prices for freehold shophouses declined by 32.7% on a half-yearly basis to S$2,692 per square foot (psf) on land in H1 2020, while prices for leasehold shophouses dropped by 30.2% year-on-year (y-o-y) to S$3,591 psf on land (Exhibit 1). With the moderation in prices, savvy investors purchased these shophouses as a safe-haven for their investments.


H1 2020 saw 52 shophouse transactions, a dip from the 65 lodged in H2 2019 (Exhibit1). Transaction volume in the second quarter of 2020 fell below normal levels amid the circuit breaker with 20 recorded shophouse sales.