Singapore Retail Market Q2 2020
Research Date: Wednesday, 19 August 2020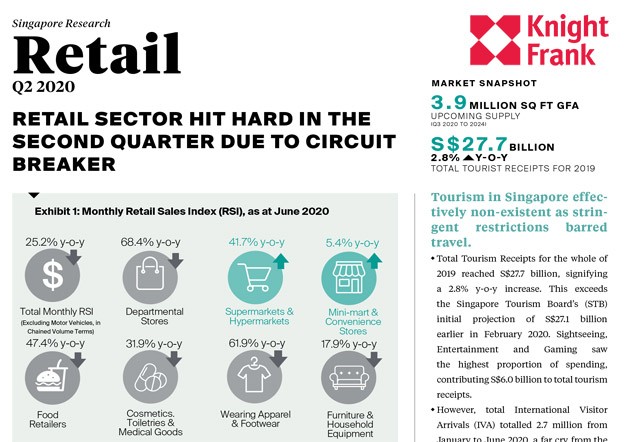 Retail Sector Hit Hard in the Second Quarter due to Circuit Breaker.
The retail sales index (excluding Motor Vehicles, in chained volume terms) in June
2020 fell 25.2% year-on-year (y-o-y), signifying the 17th consecutive month-on-month(m-o-m) decrease in the RSI since February 2019.


Supermarkets and Hypermarkets continued to record the largest increase in product
sales, with a growth of 41.7% y-o-y in June 2020. However, retailers selling discretionary goods witnessed the hardest impact due to the lack of foreign visitors and closure of physical retail stores before the onset of Phase Two on 19 June 2020. This largely contributed to the decrease of the sales index in several segments, such as Watches and Jewellery shrinking by 59.2% on a y-o-y basis.
Online sales accounted for 18.1% (S$462.5 million) of the total retail sales volume of
S$2.6 billion in June 2020, driven by transactions of Computer and Telecommunications Equipment, Furniture and Household Equipment and Supermarkets and Hypermarkets.